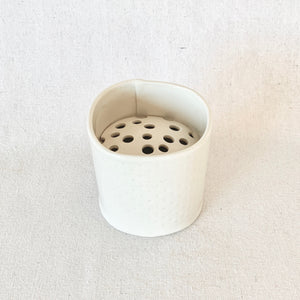 This form holds more than 15 flower stems. The "frog" is an insert that guides the stems and encourages more open or horizotal arrangements. It is fully removable to allow for thorough cleaning between uses.
Dimensions: 4.5" x 4.5" x 7"
Handmade in Portland, Maine.
White stoneware clay. Glazed and fired to cone 6.
Food, liquid and dishwasher safe.